Flippin' Finnegan, gets all the attention and now he's claiming a massive sculpture is of him! I don't think so - well it had better not be or he's going to be positively unbearable.
~What do you think - is this a horse or a dog?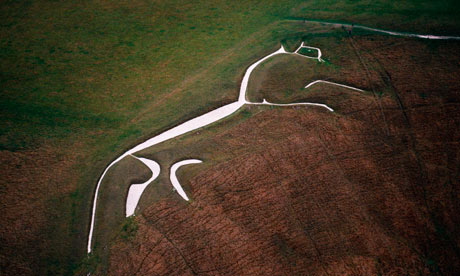 The White Horse of Uffington. Photograph: Alamy
Well someone now thinks it's a dog and not just any dog but a wolfhound!
As reported in the Guardian: It is one of Britain's most-loved ancient hill figures, careering across the downland. Now vets are being urged to question whether the White Horse of Uffington was meant to be a horse at all.
Challenging the traditional description of the Oxfordshire landmark, retired vet Olaf Swarbrick asks whether the "beautiful, stylised" figure might instead be a dog such as a greyhound or wolfhound.
Swarbrick says: "Looking at it again, it seems that it is not a horse at all: the tail and head are wrong for a horse and more suggestive of a dog. It appears more like a large hound at full stretch. I thought it may be a greyhound, but an anthropologist suggests it is a wolfhound, which (assuming it is not a horse) makes more sense."
More